The 10 Best Italian Restaurants in Kiev | Italian food in Kyiv
If you're looking for a place with an extensive menu and a welcoming atmosphere, let your choice fall on these splendid Italian restaurants in Kiev.
10 Italian Restaurants in Kiev that Follow Authentic Traditions
Whether you are a curious local or a keen traveller who has come to Kyiv for the first time, you will come across many Italian restaurants here. Some places were opened by Italian maestros who cook by handed down through generations recipes. Modern restaurants are aiming to bring in the Italian cuisine of today… Either way, we showcase ten vibrant Italian restaurants in Kiev that will make you exhilarated in this review.
Fenix Italia restaurant
Fenix Italia is much more than typical Italian restaurants! It's a unique place where you can experience the original tastes and the touch of Renaissance Italia without buying tickets to Rome. As an authentic restaurant, Fenix Italia's menu is based on classic Italian dishes, focusing on salads, Bruschettas, Antipasti, Carpaccio, Risotto and Neapolitan pizza. Artisanal pizzas are their best-known specialty: choose from mozzarella, fried mushrooms, parmesan, anchovies, salami and zucchini topping combinations. If you're craving seafood, Fenix Italia serves up delicious scallops, octopuses, lobsters, wild dorados, Red Sicilian shrimps, wild salmon and tuna fillets. Also, you will be amazed by their exclusive wine selection – it comprises more than 200 fine Italian, French and Spanish wines.
Vino e Cucina restaurant
This 3-storeyed restaurant with the one-of-a-kind cheese room and the small pizzeria boasting the ancient wood-fired oven will surely blow your mind. In the rustic setting, you will be spoiled by the menu. It offers the best Italian cuisine: numerous olive soups, salmon and goat cheese bruschettas, tagliatas, apple-cherry pies and much more! Take a bite of their baked to perfection, alluring with a chewy crust, Prosciutto, Pepperoni, Four Cheeses, Pear, Black Truffle and Focaccia pizzas! To show the meaning of a serene Italian life, Vino e Cucina created an impressive variety of desserts: strawberry tart, panna cotta with berries and pistachio fondant with yogurt! Sometimes the restaurant holds the Ice Cream Festival, during which you will delectate chocolate ice cream or lemon, mango and passion fruit sorbets.
La Fontana trattoria
La Fontana is a neighbourhood trattoria bringing a true sense of Mediterranean happiness right in the heart of the city of Kyiv. Launched as the nationally renowned Tarantino Family project, the restaurant represents different Italian regions with their intrinsic cuisines. Here, you will have a chance to sample Fettuccine with fruits and shrimps from Rome, Piedmont Tagliolini, Southern Rigatoni with salmon cream and Tuscan Pappardelle. Additionally, they serve up irresistible juicy tuna, calamari, octopuses, rib-eye steaks and lamb ribs on the grill. What's more remarkable, you will be able to watch as loaded with cheese and chicken pizza will be cooked in front of your eyes – in a brick oven. Interestingly, by visiting La Fontana, you will be able to derive aesthetical pleasure from the natural fountain splashing in the center of the trattoria. Or, feel a relaxing ambience of the open patio surrounded by fabulous flowers and greenery.
Bassano restaurant
Bassano isn't called one of the best Italian restaurants in Kiev for nothing. Inspired by the healthiness of Italian cuisine, the joint shares timeless recipes while blending fresh Italian imported products with seasonal Ukrainian ones to create that delicate flavours of Italian Table. The natural division of all food into vegetables, seafood, and meat entrees is crucial for Bassano's menu. For instance, the Sea entices with scallops, carpaccio with osetra caviar, salmon with asparagus, tonnarelli with Alaskan crabs. The Terra option offers duck legs with apple puree, Parma ham with grapes and deer striploin with chicory.
The restaurant's crowning glory is the collection of more than 200 gourmet wines that will cater to the most discerning visitors. Given that Bassano is not only a restaurant but also a dolceteka, it will live out your chocolate dreams. Take joy from sugar-free croissants, oatmeal with cranberries, ricotta pancakes with strawberries, marmalade, chocolate spheres and other fruit pastries.
Italian Edition restaurant
With an unprecedented fusion of modern Italian and Ukrainian cuisines, there's no wonder why Italian Edition is recognized as one of the best Italian restaurants in Kiev. Yes, they honour Italian culinary arts and use three types of wholemeal flour for pizza. But, in some cases, Italian Edition adds superfoods to original recipes and even pairs them with Ukrainian dishes! Therefore, you will be able to enjoy Minestrone with Lazy Varenyky or Gnocchi with rapana and Syrnyky simultaneously!
Their array of thin-crust pizzas is impressive: Air Focaccia with parmesan to Salami Diavola to Mortadella with pistachio bechamel; there's something fantastic. For further delight, order avocado toasts, Nutella cheesecake and Coconut Panna Cotta. There's good news for vegans: thanks to the rich imagination of local cooks, there's plenty of vegan dishes. Among them, you will find flaxseed porridge on almond milk, salad with quinoa and bergamot, classic oatmeal and No Need For Cheese pizza.
Under Wonder restaurant
Founded in 2009, Under Wonder has become the Ukrainian sanctuary of Italian cuisine. No matter how many pizzas and pasta you have indulged in previously, ancient Tuscan traditions will pleasantly surprise you at any time of the day and night. Give a try to saffron risotto with rabbit, veal tongue with sun-dried tomatoes and lotus chips or order Cacuccio tomato soup with seafood – each of these items need to be experienced! Their acclaimed chef, Volodymyr Chechko, has created the incredible "Breakfast" menu, encountering which you will understand what is contemporary, to some extent, hectic Italy. The most sought-after breakfasts are potato gnocchi with mushrooms, omelette with salmon or mozzarella, homemade granola with berry cheese and apple pancakes with sour cream. They have an eclectic selection of sparkling, sweet and semi-dry wines; blackberry, spirulina and banana smoothies; pear and tarragon lemonades.
Mario restaurant
Mario is one of those luxurious Italian restaurants in Kiev born from the desire of globally famous chefs to share their passion for Mediterranean cuisine with the outer world. For this reason, Huldrick Plaisent gives the maximum attention to Mario's constantly growing menu and consistently turns any dish into a masterpiece. Don't believe us?
Enrich your relish with duck fillet salad and strawberry coolies, Risotto with porcini, Fettuccine Tosa-mi with tuna or Ravioli with salmon and ricotta cheese. Moreover, it will be improbable to forget the piquantness of "Catalon" salad with lobster, "Ligurian" salad with feta, "Nice" salad with anchovies and sensational Parma ham with melon. To prolong your palate happiness as much as possible, Mario restaurant serves up orange, rosemary, pepper and blue sauces. And discover the cherry on top: there's a wealth of cold tidbits with chocolate and berries!
Semifreddo restaurant
Semifreddo is a beautiful restaurant opened by Nino Graziano – a Sicily chef dedicated to family recipes and the latest culinary trends. Once you taste Sicilian cooking made with meticulously picked Italian ingredients, you will embark on an imaginary journey to this picturesque island. All you need to do is get a feel of Faggotini with crab, Guancetta with braised veal, octopus "Alla Luciana"' and orange sorbet. Sounds appetizing? It is! The specialty of Semifreddo is the Semiramis menu, which allures with Lula di Pollo (roasted chicken), Spiedino di Vitello (veal shashlik) and Calzoncino with meat.
Vero Vero restaurant
Offering richness of Italian leisure, The Vero Vero restaurant has become a popular destination in culinary Kiyv. All dishes, be it Bruschetta with turkey, Tomato carpaccio with mozzarella stracciatella or Cannelloni with beef, are bound to become your favourites here. The pursuit of the highest quality is enhanced by fruit gelato, "Toffee" condensed milk, pistachio ice cream and flavoursome Gorgonzola with honeycomb!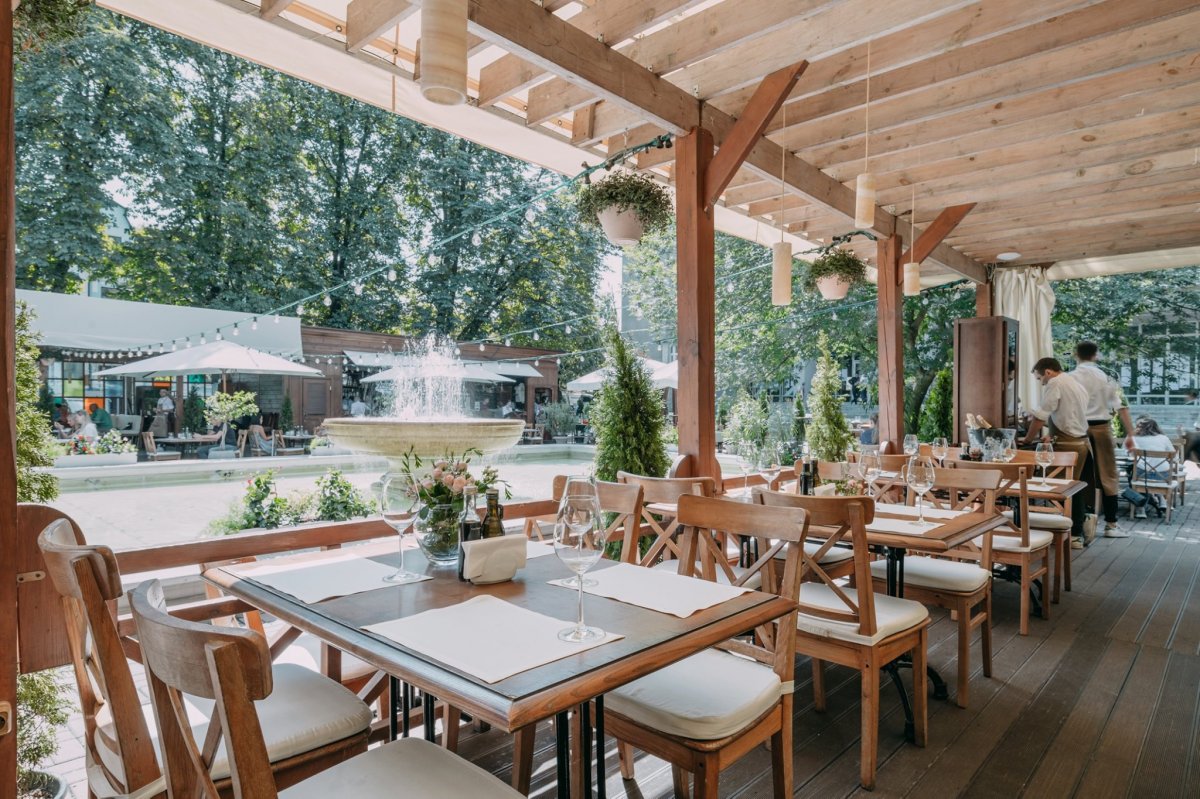 Guramma Italiana restaurant
Guramma Italiana is known for top-notch pizzas! Nine Cheese, Prosciutto Cotto and Margherita have been their best-sellers for several years now. Aside from various olive salads, their menu includes Lobster Linguine, Tagliolini with black truffles and lasagna with braised rabbit. If you are entertaining the idea of getting into seafood, we recommend grilled Carabineros shrimps and Scampi. And picking desserts, you won't go wrong with berry or strawberry pies.
Conclusion
We showed you the ten best Italian restaurants in Kiev, and we hope you could find the restaurant you loved! If you have already decided where to go, we advise you to make a reservation because many of the restaurants listed are in high demand, especially on weekends. That is why we recommend using the RSRVIT service for a quick and easy booking in two clicks! Book your next visit using RSRVIT because we care about your time and want to make your life a little easier.