Asian Food in Kiev, Top 10 Asian Restaurants in Kyiv
Here're the 10 best restaurants with Asian food in Kiev that will win your heart.
If you wonder how an extraordinary restaurant should look, you've come to the right place. Here are 10 restaurants with Asian food in Kiev locals always flock to.
Finding a restaurant with authentic Asian food in Kiev can be quite a daunting challenge. This is why we've made the list of some unparalleled Asian-inspired places to have a delicious meal while savouring a mysterious Eastern atmosphere in Kiev.
Fenix Asia
It's not for nothing that, being opened in 2020, today's Fenix Asia is considered the most sought-after pan-Asian restaurant in Ukraine. Once you step into its space, you will be taken aback by its splendour decor; original Chinese carvings, glass depictions of gorgeous geishas and mouth-watering flavours of spicy dishes. The wealth of Asian cuisine here will delight even the most discerning gourmets, from classic miso soup with wakame to shrimp or mushroom dim sum to kimchi with cherry tomatoes. Also, if you take an interest in sashimi, get ready to be spoiled for choice: you will be able to opt for wild scallop, salmon, yellowfin tuna, yellowtail, sea bass, octopus and even smoked eel slices! There's something right for you.
A golden brown Peking duck roasted in conformity with ancient Chinese traditions is the restaurant's specialty. This incredible taste will bring unforgettable pleasure. What about drinks? The menu offers not only wines and cocktails but more than 30 types of sake. If you cannot decide from what particular sake to embark on a gastronomic journey, don't worry. Fenix Asia's accomplished sommelier will help you to find the most likeable one. Apart from that, when thinking over foods to choose from, you will have an opportunity to get individual recommendations according to your sign in the Chinese zodiac astrology.
Not Only Fish Restaurant
Not Only Fish represents a twist of Asian cuisines with a new take on leisure activities. Instead of merely sitting at a table, you will be encouraged to join a warm camaraderie with lively dances. By the way, the NOF menu itself is as electrifying as dancing! After sampling sushi with eel, steamed sea bass fillet, daikon and tataki rolls, you will come to senses urging for one more portion. Gedza with Kobe and Dim Sum with crab and truffle sauce also comes with the warning: "highly addictive." The collection of beverages is undeniably enticing. It consists of Japanese fruit wines, Nikka whiskey and numerous types of sake. Hence, Not Only Fish is an awesome Japanese joint without feeling like it's trying too hard.
Kama restaurant
The Kama is an elegant pan-Asian restaurant on the 7th floor of Riviera House with picturesque views of the Dnipro and enchanting lights of the historic Podil. This place is praised for its one-of-a-kind langoustine menu. It comprises Langoustine Salad with Stracciatella, Langoustine Tom Yam, Langoustine popcorn and even Langoustine tartare. On top of that, Kama is one of the most renowned destinations for irresistible lime-raspberry Mochi desserts that in no time will uplift you on cloud nine.
Virgin Izakaya Restaurant
No matter how many Asian restaurants you might have ever encountered, Virgin Izakaya will astound you with its revolutionary concept of the Open Kitchen. As soon as you enter Virgin Izakaya, you will have a chance to contact the chef in person. You will have pleasure in magnificent performances, during which your meal will be cooked. Also, thanks to the possibility to begin dialogues with knowledgeable cooks, you will be able to live out your greatest culinary dreams – with Asian tastes.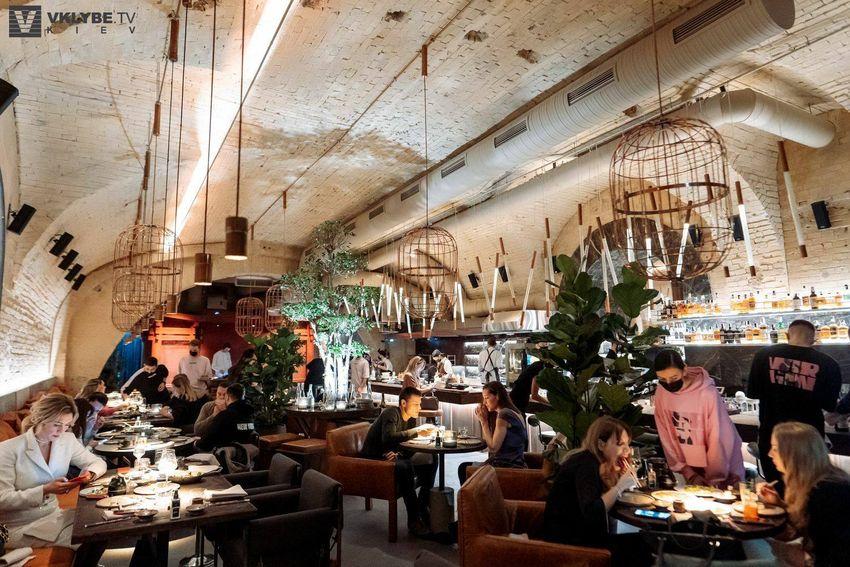 Bao Restaurant
There are a million reasons why this restaurant on Mechnikova Street 14 is like no other typical Chinese one. Firstly, Bao is focused on modern cuisine that sticks to culinary recipes from previous centuries. It embraces new approaches, enabling its customers to get acquainted with the newest crazes in China. Hence, you must try Xiao Long Bao with duck, and Shu Mai with scallops or tuna or Bok Choy leaves. Otherwise, you won't grasp the grounds of Chinese food aesthetics and, more importantly, adopt a Taoistic mindset. The third Bao's specialty is the accent of refreshing dishes; green salads with grapefruit or orange dressing and baby octopuses with peppermint leaves.
Ikigai Restaurant
Believe it or not, Ikigai is a restaurant embodiment of Japanese mentality. With state-of-the-art decor alluding to the imperial era, lavish VIP rooms, traditional Donabe pots and reverent treatment, Ikigai sets the new standards in the restaurant industry. Its chef, Dmitriy Krivoshap, won many prestigious culinary awards while training in Japan and having that invaluable experience under his belt. He developed a fantastic menu that caters to the pickiest epicures. Whether you delectate innumerable dorado, sushi and sashimi sets or get a feel of tender Tom Yum and Ebi Ramen soups, you will be at a loss for words to express your excitement. Please note that you won't be able to get a table at Ikigai without booking. Still, you can always take advantage of Ikigai's delivery service.
NAM Restaurant
Specializing in contemporary Vietnamese cuisine, NAM is a perfect choice for those adventurous eaters who strive to explore the most exotic features of Southeast Asia. The restaurant's main attractions are Tim Sam (dumplings with mushroom, shrimp, truffle and seafood fillings), juicy Nem rolls with pork, chicken and calamari, and classic Pho soup with crab meat. Wok-seared sweet and sour chicken or lamb with a plate of papaya salad will make your breakfast surprisingly nourishing. In contrast, grilled scallops in a spicy marinade with vanilla and cauliflower will be a good idea for suppers. Longing for tropical fruits that you have never tasted? NAM serves outstanding snails with lemongrass, coconut sorbet, sago pudding with mango and chocolate mousse with passion fruits. Sounds appetizing? It is! For your further enjoyment, sample some Vietnamese non-alcoholic beverages – Le Loi and Ho Hoan Kiem.
Prices on most dishes here start from 15 USD, but this food will surely exceed your expectations. Plus, in case you have no spare time to come to Velyka Vasylkivska street, NAM will deliver your order to the most remote parts of Kiev and beyond in less than half an hour.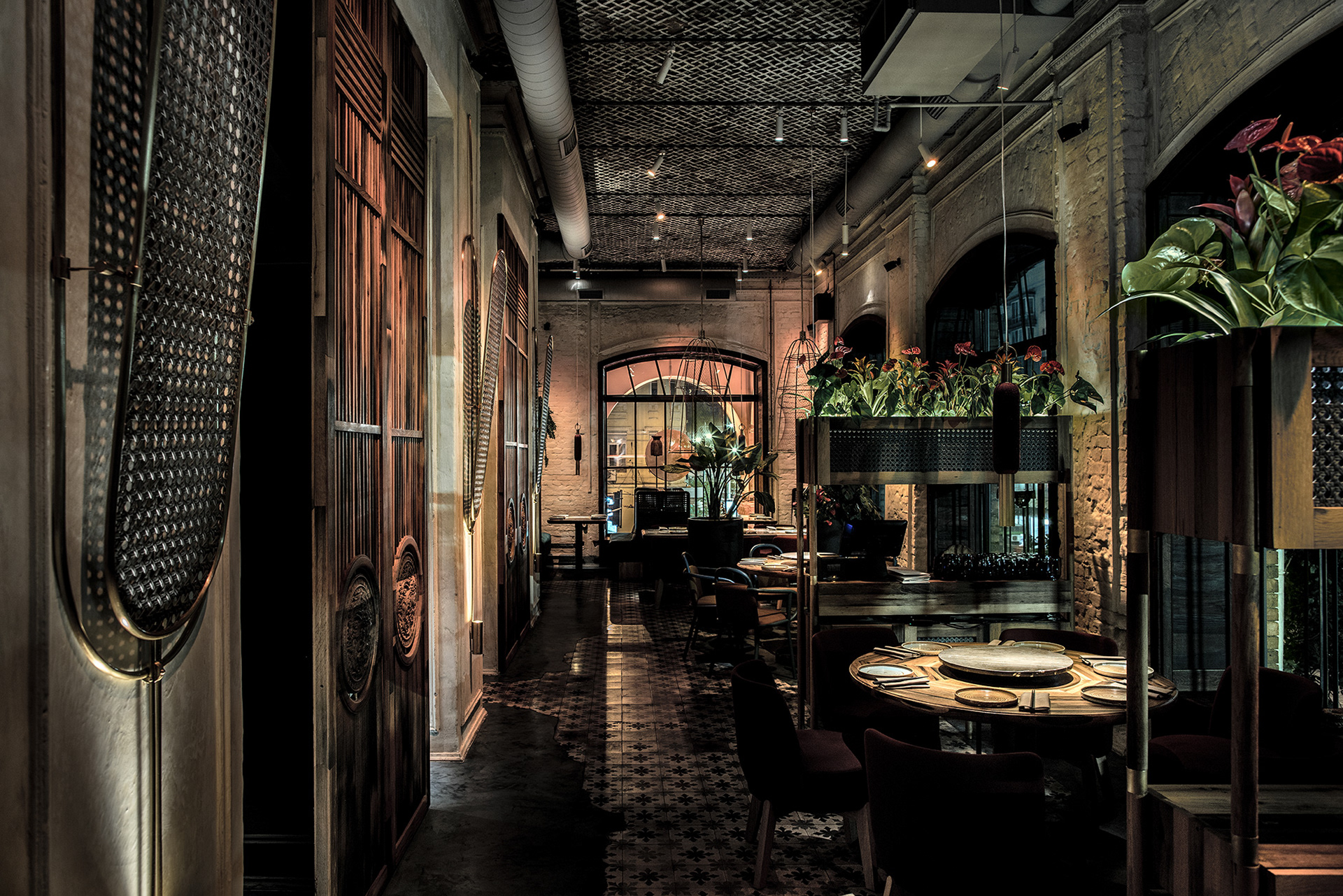 Bruce Lee Chinese Restaurant
Bruce Lee Chinese Restaurant is one of those innovative restaurants in Kiev that moved online and gained in its flexibility. They serve the world's favourite Hung Dong soup, steamed rice, Baoji pork, scallops with garlic sauce and baby octopuses loaded with pepper. That means they will never make you wait for a table or a dish to be prepared; their takeaway location is suitable for everyone on the right bank of the city – on Lobanovskogo Avenue 96. Aside from Bruce Lee's virtuality, its food variety is as close as you can get to the Chinese culture outside the Celestial empire.
If you are craving something piquant, lamb Ziran and sour-spicy potatoes should be given a try without a moment of hesitation. Nonetheless, the latest Asian dessert trends, especially sugar-free Micado and Brownie cakes, are also on their menu. They are alluring with fine chocolate, condensed milk, and ice cream within big pieces. What's more wonderful, as far as no other Lee devotees will see your dishes, you can pair incombinable flavours and discover the diversity of Chinese cuisine at its richness.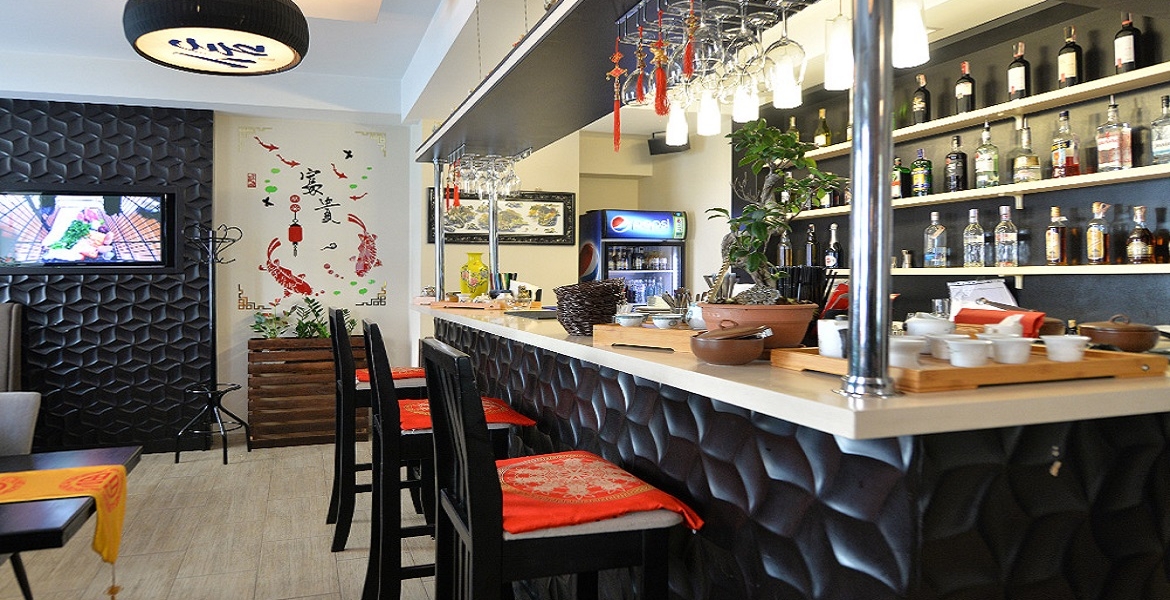 Kin Kao Restaurant
Kin Kao is a marvellous restaurant located on Andriyivskyy Descent and combining Korean and Japanese cuisines simultaneously! How come this pan-Asian mix appeared on this list? Kin Kao is known for impressive Japanese tea ceremonies, which appeal to diners with Green, Black, White, Pu Erh and Oolong leaf drinks. Along with that, there's an extensive selection of Asian wines and whiskey you will never find anywhere else. Besides, you will never look at other grills the same way ever again after taking a bite of Mukata, Ho Go and Bulgogi dishes at Kin Kao.
Fujiwara Joshi Restaurant
Located on Solomianska and Dragomirova streets, this restaurant Kiev project centers around Japanese cuisine. Given that the chef launched it from the Land of the Rising Sun – Fujiwara Joshi – himself, the house follows the best Japanese cooking technologies that have been standing the test of time for more than thirty years.
The house's crowning glory lies in premium quality ingredients transported straight from Japan; alive lobsters, oysters, crabs, and crayfish are undoubtedly fresh since the joint boasts its unique aquarium system. Don't miss out on a Tuna Party! You will have a chance to acquire a taste for chilled wild-caught tunas. It includes Bigeye, Yellowfin and Bluefin, as well as watch as those fishes are cut in front of you. Additionally, there is plenty of meat dishes, such as Teriyaki Chicken, Udon noodles with pork, Gyuniku (marble beef grill), Yakiniku (marinated beef grill) and Yaki Uzura Bacon (quail eggs with bacon). So that you could enjoy Fujiwara's food without visiting any of the restaurants by yourself, there's a delivery option (the minimum order is 40 USD).
Conclusion
We showed you the 10 best restaurants with Asian food in Kiev and hope you found the restaurant you loved! If you have already decided where to go, we advise you to make a reservation because many of the restaurants listed are in high demand, especially on weekends. That's why we recommend using the RSRVIT service for a quick and easy booking in two clicks! Book your next visit using RSRVIT to taste the best Asian food in Kiev! We care about your time and want to make your life a little easier.