10 best restaurants with a view in Kyiv
Are you longing for unforgettable impressions, full of pleasant smells and breathtaking panoramas? Check out these best 10 restaurants with a view in Kyiv!
Meet the best 10 restaurants with magnificent views in Kyiv
Did you know that restaurant aesthetics isn't limited to food itself? No doubt, a delicious menu is of the essence, but have you ever wondered why we keep coming back to restaurants instead of ordering dishes straight to home? What exact things evoke our eager anticipation and make our hearts flutter every time we visit a restaurant?
To answer these questions, we've conducted a small survey and found out that an amazing view, when combined with an opulent interior, creates that magical atmosphere you will want to revel in forever. Thus, here we are: presenting the 10 best restaurants with a view in Kyiv and navigating your way to sheer delight.
Mayak restaurant
Like in Ukrainian "Mayak" means "A lighthouse", this restaurant has become the most popular culinary destination for its solo setting on Rusanivska Embankment. For what reason? Only here, enormous windows look out over turquoise waters of the Dnipro, while a wooden riverside terrace occupies a prime spot with Paton Bridge in the near-site and golden-domed Kyiv Pechersk Lavra just opposite. The menu has everything to put a smile on your face. It boasts not only Italian but Asian and Ukrainian cuisines. Such an awesome intercultural fusion enables all guests to sample Black Queen oysters, tartar with tuna, pizza with gorgonzola, Caucasian pilaf with veal, and varenyky with cherries simultaneously! To take your experience to the next level, Mayak amazes with an outstandingly rich cocktail card. Sink into summer vibes with passion fruit spritz and original mojito.
11 mirrors Restaurant & Bar
On the rooftop of Eleven Mirrors hotel, its restaurant & bar is at the right height for all gourmands who want to discover the glory of Kyiv's cityscape. Want more details? You will have an opportunity to soak up red yet unconfident rays by dawns. Give a glimpse at sunlit St Sophia's and St Volodymyr's Cathedrals by day. Revel in neon lights of the vespertine downtown by night. Sounds attractive, doesn't it? Additionally, you will never look at other restaurants the same way ever again after sensing the gentle piquantness of fresh salad with unagi duck, Ukrainian borsch, and duck fillet with raspberry sauce. What about desserts? This restaurant is a unique place that serves up locals' favorites such as Kyiv cake, Nine chocolate textures, cheesecake New York, and Lemon Tart.
Veranda on the River restaurant
Being recognized as one of the most luxurious restaurants in Eastern Europe, Veranda on the River offers all guests the inspiring and a bit sophisticated atmosphere of the nineteenth-century Podil with its eclectic architecture. Sometimes it appears to be challenging to drive by car here due to countless traffic jams and narrow streets. But that's a small price for memorable impressions that will imprint in your memory for years. What's more wonderful, you will never fall into boredom here! Quite frequently enchanting Lida Lee (a prominent singer under Monatik Corporation) seduces Veranda's enthusiasts with impeccable and evocative vocals, making you lose a track of time and finding keys to your heart.
What to eat? Savor herring of the Northern Seas with baked potato, scallop carpaccio with truffle dressing, and "Olivier" salad with smoked veal tongue. Discover one more advantage of Veranda. This restaurant has established a new mouthwatering tradition, which encourages everyone to taste exclusive cheeses from their farm dairy.
Avalon restaurant
Since 1992, Avalon Terrace has been one of the best 10 restaurants with a view in Kyiv overlooking the heart of the city. It includes Bogdan Khmelnytskyi Street, the Museum of Ukrainian National Republic, and The National Opera of Ukraine. Avalon's chefs cook everything in the fresh air to serve the most mouthwatering dishes on Earth — at their open kitchen of the Terrace. No matter what precise flavor you're craving, by stopping by Avalon you will be spoilt for a choice of contemporary Ukrainian and Mediterranean cuisines. Take a bite of Caesar with tiger prawn tails, cool okroshka with meat on kefir, and crispy New Zealand lamb ribs. Apart from the main course, Avalon's menu caters to chocolate lovers. Immerse yourself in incredible tastes of Bailey's tiramisu, chocolate, and vanilla macarons as well as chocolate tortino with cherry sauce.
Mr. Zuma restaurant
Once you enter Mr. Zuma, you will understand that the fifth floor is enough for jaw-dropping views of hectic, to some extent electrifying Kyiv. Given that this restaurant is set in the biggest business center of Ukraine, it is a perfect match for those who highly value their comfort, time, and amiable company. The Japanese menu at Mr. Zuma promises to astound even the pickiest epicureans! Order rolls with quinoa, mangos, and avocados; salmon, tuna, octopus, and yellowtail sashimi; grilled duck breast with teriyaki sauce or steamed Chilean seabass with miso sauce. To complement your dining with refreshing drinks, Mr. Zuma has prepared a unique collection of plum wines.
Matisse restaurant
Bohdana Khmel'nyts'koho St, 56
Near the top of CITYHOTEL, Matisse looks straight out onto the Botanical Garden, St Volodymyr's Cathedral, and recently built skyscrapers. Matisse is a gorgeous place: apart from halls with floor-to-ceiling windows, the restaurant laid extra tables on its open loggias!
The menu at Matisse combines the entire European cuisine at its best. Don't slip through your fingers this one-of-a-kind opportunity to enjoy bruschettas with olives and truffle. As well as linguine with cheese sauce, and oregano, ravioli with spinach, and Philadelphia cheese. Surprisingly, Matisse cooks managed to bring a new take on summer desserts. Discover the delicacy of lavender panna cotta, sorbet with berries, and mousse with peach compote.
Prychal restaurant
Escape from routine life and derive untold pleasure from panoramas of glittering Dnipro at Prychal. Interestingly, views here stretch from the peaceful horizon of the left bank of the city to the legendary Kyiv Pechersk Lavra and the Motherland Monument. Get ready for the magic of the riverside location: it renders absolute unity with nature amid the modern metropolis.
Besides, the beauty of Prychal lies in its perfect menu. Japanese cuisine will nourish your organism with all vital microelements and bring you a surge of energy. Home-style chicken with ananas teriyaki, dorado fillet, or Tom Yam soup with seafood. Choose these specialties and admit that paradise is real.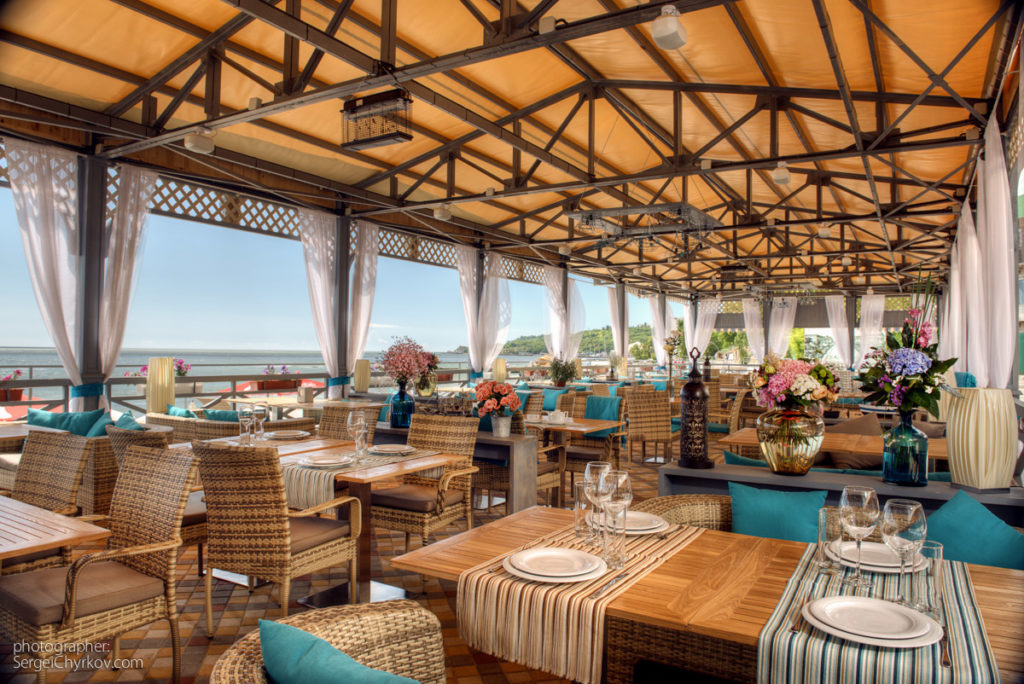 Atmosfera restaurant
Located at the rooftop of Premier Palace Hotel, this cloud-gazing restaurant comes with phenomenal views of the Olympic Stadium, the Bessarabian market, and Kreshchatyk. However, it's not the only reason why we've got this restaurant on our list! Be it scorching summer or freezing winter, Atmosfera's terrace has both open and covered areas, featuring a dance floor and a podium.
Their fantastic menu will defy your imagination! By taking European and Asian cuisines into focus, Atmosfera selected the most appetizing dishes from all remote parts of the planet! For example, try out a salad with farm duck breast and Bok Choy, Stellini Nero pasta with crab meat, and calamari with kimchi sauce. There's good news for watermelon admirers: Atmosfera adds it everywhere. Choose tartar with tuna and watermelon, the watermelon dessert, and berries gazpacho with cheese balls.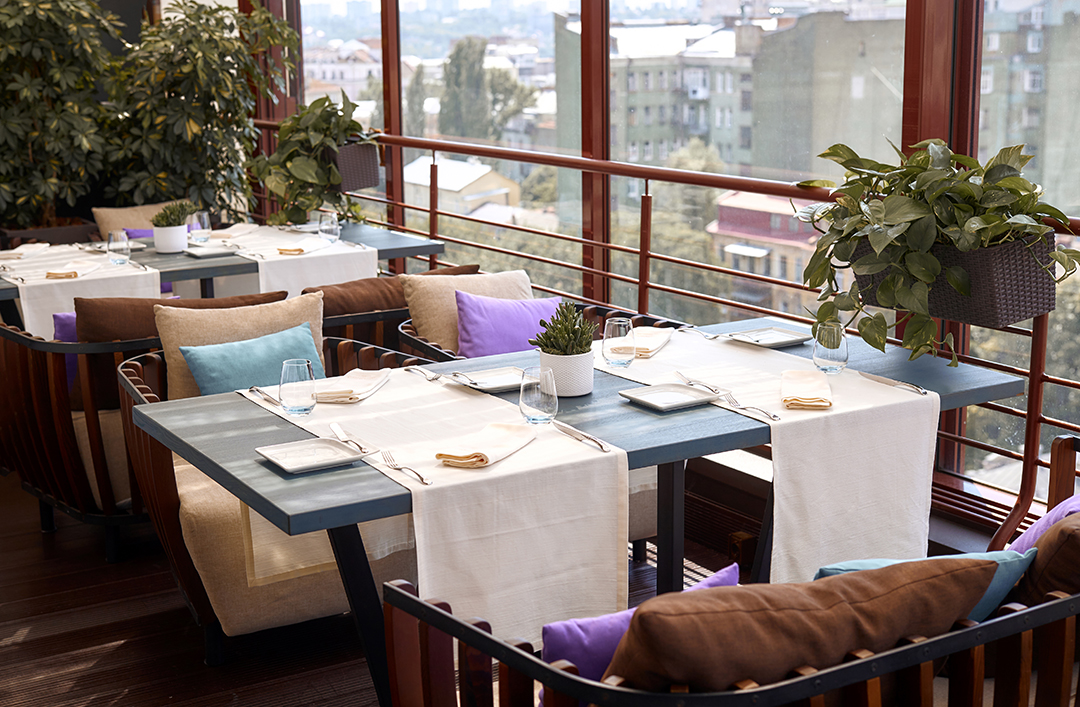 Terracotta restaurant
Terracotta is another elite restaurant you will find on the 8th floor of Premier Palace Hotel. Unlike Atmosfera, Terracotta allures only with views of Kreshchatyk, but, honestly, that is enough for having a memorable evening. The second advantage of this splendid place is a spacious hall for 110 guests. If you have a large family and you are planning a gathering, they all will have seats there!
The restaurant specializes in exquisite Mediterranean cuisine. Thus, you will be wowed by sturgeon caviar with toast, Atlantic lobster, and scallops with red cabbage with smoked ricotta. Since the range of wines here includes more than 260 titles, a professional sommelier will help you pick the best matching with your mood bottle.
B-hush lounge bar
You will never be able to unsee a 270° vista unfolding from the most popular hotel in Ukraine – Intercontinental. Whether you are organizing a romantic date or business lunch, you can be assured of all your initiatives being smooth like butter. By the way, you will also be fascinated by an unrivaled Japan-accented food variety. Harumaki with chicken, wild sea bass with asparagus, and Tempura shrimps with wasabi sauce will make you brimming with cheerfulness the whole day long!
Conclusion
We showed you the 10 best restaurants with a fabulous view in Kyiv. We hope you could find the best restaurant you loved! If you have already decided where to go, we advise you to make a reservation. Many of the restaurants listed are in high demand, especially on weekends. That is why we recommend using the RSRVIT service for a quick and easy booking in two clicks! Book your next visit using RSRVIT because we care about your time. We want to make your life a little easier and guarantee your visit to the best restaurants with an amazing view in Kyiv!